Our Mascots
Our love affair with the golden retriever breed began with Tucker. Tucker was adopted from the Lakes Region Humane Society in 1996, by our owner Lisa Casaccio. Shortly after adoption, he started coming to the dealership and was the first golden to appear in our T.V. spots.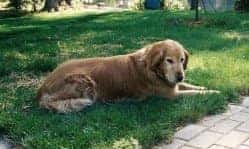 ---
Of course, the only thing better than one golden retriever is two golden retrievers. In 1999 Cooper began coming to work with Tucker at only eight weeks old. He became a big star in our ads and was the first golden to say "NO BONES ABOUT IT" at the end of our T.V. spots.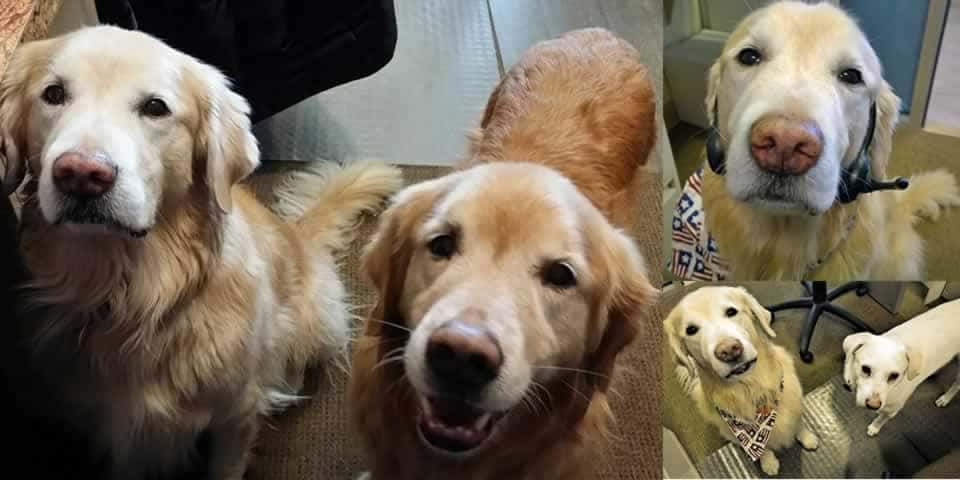 We lost our beloved Tucker in June of 2002 at the age of fourteen and a half. Cooper needed a companion. In keeping with the belief that two Golden Retrievers are better than one, Lisa traveled to Charlotte VT and brought back Trevi, named for the famous Trevi Fountain in Rome. Trevi was one of the most vocal dogs (the understatement of the year.) He had many traits that made him nearly human. He took over for Cooper and appeared in many of our T.V. spots.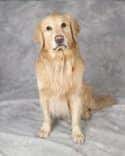 ---
Three Goldens may not be better than two. Three can be quite the handful, but if you ever met Dealer (great name, huh?), you'd understand why we had to add him to our gang. He began life as a show dog and would occasionally make "guest appearances" at the dealership. Dealer decided, he would be much better off to work at the dealership, so he left his show career behind him for the car business.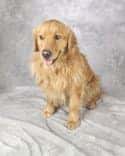 ---
At Rochester Toyota we're just crazy about Golden Retrievers. Someone once commented to Lisa saying that "your dogs don't know how good they have it." That got her thinking about giving a less fortunate golden a great home, so she decided to adopt once again, and so we got Dawson. Dawson reminded Lisa of Tucker very much. He had arthritis just like Tucker and needed someone who could take good care of him. Dawson proved to be one of the sweetest Goldens we ever had the pleasure of owning.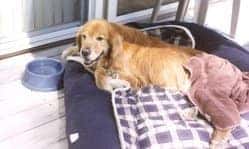 ---
FIVE GOLDEN RETRIEVERS, MY TRUE LOVE GAVE TO ME!!!
Let's just start by saying we know Lisa is crazy for having five dogs, but she is the daughter of Crazy Eddy! Even Lisa knows that to have five dogs is ridiculous and it does not help that one of her best friends breeds Golden Retrievers, so she has easy access to them! Enter Rev, a very handsome boy who just like his Uncle Dealer began life as a show dog. He too realized that show life was not for him. Rev lived with Lisa's friend for fourteen months before she placed him in what was supposed to be his forever home. Unfortunately, his new owner fell ill, and Rev then was returned to her friend. Lisa's friend wanted the best for Rev. She tried to find him the perfect home, but none seemed right. She did not want to fail Rev once again. She spoke to Lisa, who said five dogs is too many, but her friend prevailed, and Rev came on a "trial basis." This, of course, turned into his forever home because Rev was just too easy to fall in love with!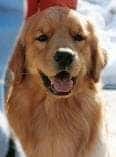 ---
UPDATE:
We lost Dealer in February 2010 in a car accident. Cooper then passed away quite unexpectedly in Feb 2011 from liver cancer. Trevi, Rev and Dawson were happy, content and quite spoiled…but not for long!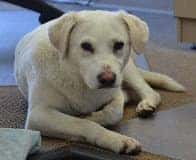 ENTER RILEY……Scanning the internet on a Saturday morning, Lisa came across a little white dog from New England Lab Rescue. Snow was her original name, and she was only about five months old. She had been living in a backyard with fourteen other mixed breed dogs who were multiplying. The situation was overwhelming to the owner of the dogs, so he decided to place several of the dogs with New England Lab Rescue. One of them being our dear Riley. Although she is a mixed breed, she looks like a miniature lab. Of course Lisa found her to be so adorable and could not bear to replace Cooper with another golden at the time, she took her on a trial basis and we all know what that leads to. Snow was renamed Riley because she has the LIFE OF RILEY both at home and at the dealership. She can usually be seen either following Lisa all over the dealership or in Lisa's office. She is still a bit skittish from living without much human contact for the first months of her life but has made some progress over the years with all those Golden Retrievers to boss around.
ONCE AGAIN AND THEN THERE WERE FIVE!!
As we have said, one of Lisa's best friends breeds golden retrievers and every once in a while, she has to find one of them a home. ENTER FAITH….Faith did not enjoy living in a kennel. Once day Lisa was asked to take her for a few days to give her a break from kennel life. Of course, Lisa was more than happy to oblige. She fell in love with Faith. A few months later, in January of 2012, Faith came to live with Lisa and the gang. This arrangement was a no brainer because Faith just happened to be Rev's sister and, Lisa always wanted to have siblings. We never had a golden girl. We were expecting a dainty, feminine female and Faith proved to be anything but!!! Faith could rough it up with all the boys and seemed to get dirtier and in more trouble than the boys. Rev and Faith are more homebodies and prefer to work from home. However, they will make an appearance now and then.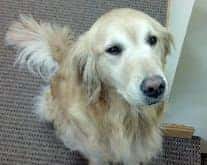 ---
Update:
Unfortunately, we lost Dawson to stomach cancer in May 2012. Trevi our mainstay in our T.V.spots lost his short battle with cancer in June 2015. We will all miss his big personality. For six months, Lisa could not bring herself to make any new T.V. spots. However, time heals all wounds, and Lisa knew she wanted another golden. Lisa just needed the right one to come along. In Aug. of 2015, she found what she was searching for when a small, cute, runt of the litter caught her eye. Drake was very relaxed and was special because he had lost his tail to an infection at just four months old. No one wanted him because of this, which made him irresistible to Lisa. Drake is also known as "The Tailless Wonder," or just "TW" became a member of the Rochester Toyota Golden Squad in Oct. of 2015. At ten weeks old he began his T.V. career.

AND THEN THERE WERE FIVE AGAIN!
Because Trevi was so special, Lisa reconnected her breeder in Vermont. At the time there were not any puppies available. Good things are worth waiting for, so Lisa reserved a pup from an upcoming litter. This particular litter just happened to be from the same two kennels where Trevi was born. After looking at pictures of the mom and dad, Lisa decided that this was meant to be. On March 25th, 2016, Bentley became our 5th golden once again and is currently starring in our T.V. spots. Bentley is so handsome that Lisa decided to show him in Confirmation and he is presently an AKC Champion on his way to a Grand Championship!!!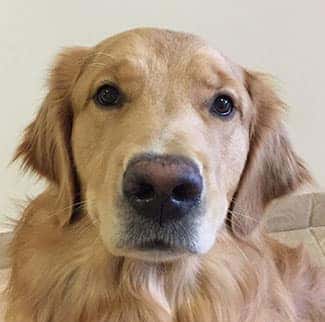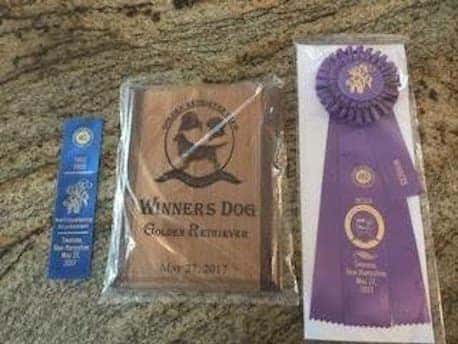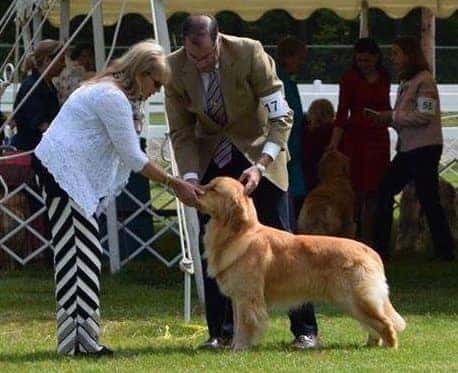 UPDATE:
Unfortunately, we lost Faith in March 2018 to heart disease. The Rochester Golden Family consists of Rev, Drake, Bentley and our little mixed breed dog, Riley.
We invite you to meet our canine family. They are "scheduled" on Mon-Fri from 9am-6pm. They are always happy to assist with your vehicle needs as well as helping you with any breakfast or lunch you may bring with you!!!